Rombauer Vineyards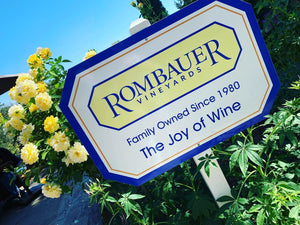 Up in the hills of Napa Valley; St. Helena region, lays a vineyard with one of the best views, charming atmosphere and delectable wine!  We visited Rombauer winery at the recommendation of friends who favor Chardonnay and since it was August in California, we were looking for a light white wine to combat the heat of summer.
We chose the classic tasting and were paired with another couple and their adorable husky! How perfect for us and only added to my joy that they are a pet friendly winery.  #wineanddogs.net
We started with the 2021 Sauvignon Blanc which was sharp and heavy on peach and grapefruit flavors.  Since I prefer a dry wine over buttery, I enjoyed this wine more than their famous chardonnay. 
The Chardonnay is what Rombauer is known for and is very rich with a buttery taste and slightly sweeter than I usually prefer with heavy vanilla notes.  I think this would be perfect paired with a chicken or light pasta dish!
The next wine was the 2019 Merlot and this was my FAVORITE out of all the wines at Rombauer... which is surprising because I am not a typical Merlot fan.  This was a rich wine bursting with flavors that I have never tasted together before.  Frankly, I could not get enough!
2019 Cabernet Sauvignon was the next wine and full tannins and a balanced fruit forward taste that lingers well after the wine is devoured. This is a wine that should be served for guests who appreciate good wine.
The last and final was the 2019 Zinfandel which was heavy with flavor and had a smooth finish.  Not only is this wine affordable, it is absolutely delicious!  (We had to bring a few bottles home with us)
We highly recommend this gorgeous, pet friendly, absolute gem of a winery.  Oh and ask for Kevin Depina who had a wealth of knowledge to share with us about the wine and Napa/ St. Helena region.  At Rombauer, they truly do know how to bring the "Joy of Wine" to you.  We are looking forward to our next visit!
To purchase, go to @rombauer.com 
Cheers!