December's Wine Review: Fergedaboudit Alicante Bouschet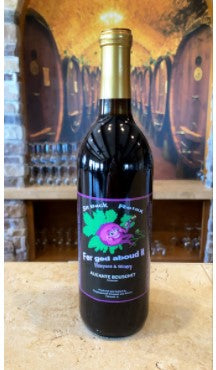 I am here to tell you about a hidden gem of a winery located in Hanover, IL...YES I said Illinois, my home state actually produces some good wine, well at least;  Fergedaboutit Winery does.
The friendly wine sommelier told me to try Alicante Bouschet and I was transformed by this smooth, full bodied blend of everything bold and beautiful in this wine.  I admit it took me a few times to learn how to pronounce it: (All-e-contay Bush-ette)  and now I am hooked, we purchased 3 cases as the price is just right at $28 a bottle and I look forward to sharing with my clients, friends and family over the holidays. You can purchase directly from the site fergedaboudit.com
They also have a wine club  that I am looking forward to joining and they have some holiday specials for Free shipping on 12+ bottles.  Typically they feature one wine a month but this month, they are featuring three wines along with some mulled spiced wine; "Vino Speziatto" that makes your home smell like Christmas!
I also encourage you to visit the winery...plan a trip next Spring, Summer or Fall! They have an antipasto plate and a taste of chocolaty heaven that pairs well with each of the wines. 
Then there is the gazebo in the middle of the vineyard, we were lucky enough to score a spot on a beautiful day and my husband enjoyed his wine & cigars!
We look forward to returning in the spring as surely we will need to stock up again on this magnificent wine!
Cheers!