Mahan Family Wine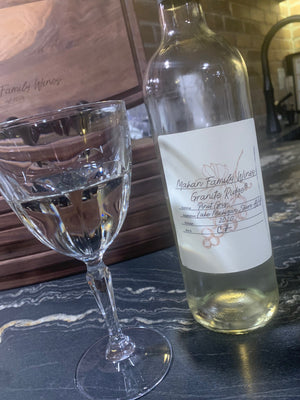 Mahan Family Winery
I had the distinct pleasure of a private speakeasy at Mahan Family Winery guided by it's delightful owners Phil & Ann Mahan.  I learned more in that 2 ½ hours about the making of wine than my last 3 trips to Napa combined. 
We started with a delightful Pinot Gris with a delicious pear flavor.  This is the perfect wine if you are sitting in the backyard on a warm summer day watching the kids (or grandkids) play in the yard while you stay nice and refreshed with the Mahan Family Pinot Gris. A steal at only $25 a bottle.
The next wine we tasted was Chambourcin; my favorite!  This was full of flavor and a robust red wine in which I give a full 5 stars!   This is a wine that will pair with any food, but I would recommend a pasta or a hearty risotto dish. $35 a bottle for which I would have easily paid doubled for.
While we were enjoying the first couple of wines, I was able to hear the amazing stories that this couple of 38 years of marriage had to tell.   They purchased the 4 acres of Michigan land in 2016 and planted 4100 grapes and had their first harvest in 2020.  Being a relatively new winery; I was surprised at the flavor and complexity of the wines that are as good as their Napa counterparts. Just 16 miles outside New Buffalo this neighboring winery is establishing itself as a premier vineyard to locals in Illinois.
Next up with a 2020 Chardonnay which only had 8 bottles left and we were lucky enough to be able to purchase one to take home.  This award-winning Chardonnay won both 2019 and 2020 competitions.  It's light and luscious all at the same time which is a hard combination to create.
Sipping on my Chardonnay, I am excited to hear that they host events, the next one being their Harvest party on August 13th which includes a welcome glass of wine, live music, a bottle of wine and a buffet style dinner in the vineyard.  After that event they are working on the Beaujolais Nouveau Day which is on November 12th , and I already have it reserved on my calendar.  The most exciting event is their trip to wine country in January 2023 in which you will get the VIP experience by traveling with a wine maker.   All these events are highly anticipated, and I can't wait to be able to attend and share my experiences with you all.
Next up was a Pinot Noir, another equally amazing wine and I am used to drinking Twomey Pinot Noir, so my tastes are quite superior for this wine. This is the bottle that I would drink with my husband when we make our own charcuterie board on a Friday evening.  The reason I like Pinot Noir so much is it's the only wine that I can drink all year long.  I was both delighted and surprised that I will be able to pick up a bottle (or 12) whenever I want…. and just down the road from me! 
Mahan Family wines will be open for your very own Speakeasy after October 10th but be sure to make reservations soon as I am certain once the word gets out (and I intend to help with this) that they will book up fast.   What also is beautiful about this couple is they do this because they enjoy it, and you can see that by talking with them and even taste it in the wine.  "We want to own it, we don't want it to own us" – Ann, the owner of Mahan Family Wines.  They are only open 1 day a week so they can enjoy life and keep enjoying what they do. I admire that.  If only I can learn from them. They have a somewhat small capacity of only 500 cases per vintage.  Which is why they do very well with their wine club memberships, offering quarterly or monthly options.  You can also purchase sampler packs or wine by the bottle.   The options are perfect for all types of people but after tasting their wines, the membership is the way to go, in my opinion.
 You can learn more about this winey at @mahanfamilywines.com and follow them on social @MahanFamilyWines