Burgess Winery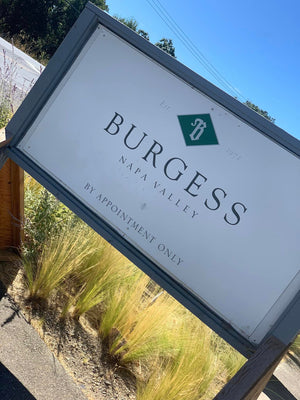 Burgess is our longest standing wine club that we have belonged to for over 15 years.   In fact our very first trip to Napa, this was the first vineyard we stepped foot in, one that would change our palate forever.   The old location on the mountain was lost in the Fall of 2020 Glass Fire along with 11 other wineries just 3 weeks after the winery was purchased by Lawrence & McCoy.  They have since opened a new location which is by appointment only.
On our recent trip to Napa last August, due to limited time we had not planned on visiting Burgess but a last minute decision the night before, we called & asked if there was any way they can squeeze us in the next morning.  We only had about an hour before we were scheduled to be at the Silver Oak 50th Anniversary release party but wanted to do a quick tasting at the new vineyard.
Upon our arrival, we were pleasantly greeted by Enoch and given the full tour of the new facility and new and unique barrels.  Which was then followed by a personalized menu, table under a beautiful olive tree and a view of the newly planted vines in the vineyard.   Next visit, I would like to do a tasting at night as they have lights set up for evenings in the vineyard.   
I could not believe the VIP treatment that we received with less than 18 hours notice of our arrival.  Enoch was so knowledgeable about Burgess wines and sat with us at our table and enjoyed delicious wine and amazing conversation.  Needless to say we were very late for the Silver Oak Release party, which was fine with us and worth every second!
Now for our wine review:
2018 Burnside Road Vineyard Chardonnay ~ This was a delicious chardonnay and the day was hot so I think I may have drank this one a little too fast.  It was crisp and aromatic and exactly what you want in a Chardonnay.
2016 Contadina Cabernet Sauvignon, Napa Valley ~  This was a deep red, delicious wine with hints of tobacco (Yes, that's a good thing) and blackberries.  We liked this one so much, we purchased 2 bottles and priced at only $54 with our wine club discount, it was a steal!
2015 Alpinist, Red Wine Blend, Napa Valley ~ O.M.G.  If you love cabernet, than you would love this wine. I don't recall the exact blend but this is definitely a cabernet dominant wine that captures the essence of Napa wines with its luxurious texture and velvety taste.  
2015 Sorenson's Reserve, Cabernet Sauvignon, Napa Valley ~ You can tell this is an older vine wine with heavy tannins and delicious taste and aroma.  The depths of each sip change slightly and each better than the next.  Although the most expensive on our tasting menu, it was our favorite.
2016 Napa Valley Syrah ~ This one was not on our initial tasting menu but Enoch recommended it and it did not disappoint.  This was a members only wine and not available for public purchase...so of course we had to purchase a bottle!
We obviously love this winery and have grown with them as longtime wine members.  Did I mention we even named our dog after this winery, that is how much we love it. Meet Burgess who is also the reason why we started Wine & Dogs! 
For more information on becoming members, click here.  To purchase the wines, we recommend going direct to the vineyard, here.
Cheers!